Carl Croft
BA (Hons), Dip. Arch, RIBA
Managing Director
Carl Croft is the founder and managing director of Croft Architecture and has a wide range of experience across many sectors. He previously worked for two well established Architectural practices in North Staffordshire before establishing Croft Architecture in January 2009.
Carl has had a passion for architecture from a very young age and it was sole ambition from his school days. His creativity and drive, along with a desire for continuous learning and self-improvement (not to mention a little hard work here and there!) has delivered the results.
He has nurtured and conscientiously grown the practice over the years, winning a commendation for Professional Services in the Staffordshire Chambers of Commerce Business Awards. Also for the Best Partnership Project & Best Education Building in the LABC Awards (Local Authority Building Control) and individually, Carl was runner up in The Sentinel Young Business Person of the Year Award.
To ensure consistent performance, service and safety, he has implemented quality systems and procedures throughout the business and successfully achieved independent accreditation across four ISO Quality Standards.
Carl is committed to implementing continual best business practice for Croft Architecture. To drive forward his ambition he is a member of the Vistage business group, who regularly connect to provide valuable collaborative business support, strategy and coaching.
Carl has the honour of holding significant roles within the local business community. He has been re-elected as the President of the Stafford Chamber of Commerce for a second time and is also a board member at Staffordshire Chambers of Commerce.
Since the practice was founded Carl has developed the business, growing it from strength to strength. He's assembled a strong team of talented, positive and pro-active, like-minded people and the practice continues to flourish.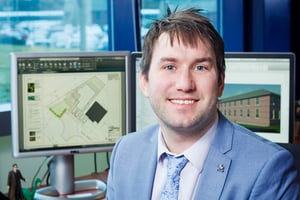 Anthony Walker
BA (Hons), BArch, MA, RIBA
Architect
Anthony joined our team at Croft Architecture in February 2013 with a wealth of experience across numerous sectors including; education, commercial, residential, industrial, medical and town centre regeneration.
Working part time in practice whilst studying has allowed Anthony to be actively involved on a diverse range of projects within a variety of sectors, from small scale works to million pound developments. This scope of professional experience has provided Anthony with wide breadth of involvement through every stage of the design process from start to finish.
He has developed a broad knowledge and understanding which has not only facilitated his educational progress, but also his professional development in practice, where he has acquired a strong interest for environmental building design, construction and operation.
He has actively worked on numerous projects to achieve sustainable design solutions to obtain BREEAM rated accreditation, ensuring a minimal environmental impact through design, responsibly resourced materials, subtle integration of technologies and innovative construction techniques.
Anthony has also acquired a particular passion and strong expertise in 3D visualisation. He has the ability to transfer 2D drawings into realistic and compelling 3D visualisations that bring new spaces and places into a reality for people.
Since joining the team Anthony has proven he has the ability to deliver on any project and it was great to see him pass his RIBA Part 3 qualification to become a fully qualified architect in November 2016.
Karolina Alder
Architect
Karolina became part of our dynamic team here at Croft Architecture in 2018.
Born and growing up in Poland; she was surrounded a diverse mix of architectural styles, with a mix of works by Roman, Dutch and German architects. In the 20th Century, Poland regained its independence twice. Both events were extraordinarily important and impacted the development of architecture thereafter.
The variation in architectural styles, past and present instilled a passion for design and architecture in Karolina from a young age. This inspired her to develop her skills and strive towards a career in architecture.
She commenced her architectural studies in Poland and upon graduation she travelled to the UK to pursue a career in architecture. Working part time in practice in London whilst studying for her Polish equivalent of the RIBA Part 3 allowed Karolina to be actively involved in projects that required the design and delivery on several notable speculative office developments in London.
In the last twelve years Karolina has worked in on a number of complex & interesting projects, in a variety of sectors, including offices, residential, education, automotive, retail and leisure.
Karolina is excited to be part of the Croft Architecture team and she's looking forward to sharing her experiences, expertise, good company, baking skills and wicked sense of humour with us all!
Rickie Bowdler
BA (Hons), ACIAT
Architectural Technician
Rickie joined us in June 2020 and he's been providing excellent technical design support for our growing client base.
As a qualified architectural technician with a number of years experience post qualification Rickie was the obvious choice for our growing team here at Croft Architecture.
He has the ability and experience to deliver a successful project through every stage of the design process and he has already demonstrated his technical skills on a wide ride of projects.
"I am delighted to join the team at Croft Architecture, they have a strong reputation over many sectors throughout the region. Although I've joined the practice working remotely amidst the COVID19 lockdown, they've 'virtually' made me feel extremely welcome and it's great to be part of such a skilled and friendly team. I'm Iooking forward to working on exciting projects and the opportunities that this will bring."
Coral Hazeldine
Architectural Assistant
Coral joined us in September 2019 and she's been providing excellent additional architectural support for our increasing client base.
She graduated from Sheffield Hallam University with BSc degree in Architecture in 2018. She then decided to spend a year travelling Europe, observing different cultures, art, design and architecture.
Coral joined our practice to take the next step towards becoming a fully qualified architect. She's ready to kick start the next stage of her architectural studies at university whilst developing her skills and experience working within the practice.
Since starting at the practice Coral has been working on a number of residential projects. She's had the opportunity to work on several HMO conversions and a number of home building projects, supporting the architects with various stages of work such as, Stage 4, Fire Safety and Access Strategies.
We're extremely pleased to have Coral as part of our growing team at Croft Architecture. We're looking forward to the knowledge and experience she brings from her studies to the exciting range of projects that we have in the office and she's already been proving a great addition to the team.
Sarah Croft
BA (Hons)
Marketing
Croft Architecture welcomes Sarah Croft to the team as our Digital Marketing Assistant. Sarah joined the Croft Architecture in June 2014 with an experienced sales and marketing background.
Studying Tourism Management at Staffordshire University, Sarah developed a strong interest in marketing and directed her studies to strengthen her knowledge and experience in this area. She has valuable experience as Marketing Assistant at a local Architects practice, as a Marketing Copywriter for an I.T sales and marketing company and thereafter, working for the The Co-operative Travel.
Sarah has a grown up with a passion and a strong interest in architecture from her father, who has since retired as an architect and she now shares her interest whilst working with her husband, Carl Croft, Managing Director of Croft Architecture.
Sarah is excited to join Croft Architecture and expand her marketing skills within the digital environment, building Croft Architecture's brand awareness and extending its digital reach.