AWARD


Glass House design sees Croft Architecture head to finals
Croft Architecture wins a top regional award for building excellence and are now in the running for a national accolade
We're thrilled to bring news that The Glasshouse Project – has been awarded the Best Residential Extension in the Regional Local Authority Building Control Building Excellence Awards 2021.
To be awarded for the work that we do every day is an honour, to be considered the best in the region is even better and now to be shortlisted as finalists for the National Building Excellence Awards is truly amazing!
We're looking forward to travelling to London in January 2022 to attend our first 'in person' awards ceremony since pre-covid times where the national winners will be announced.
What are the LABC Awards?
The LABC Building Excellence Awards highlight projects where architects and project teams have had a particularly challenging or complex technical or construction issue with a scheme, or maybe even building site constraints.
The awards provide the opportunity to show how problems have been solved through a variety of creative solutions, from communication and teamwork to innovative designs and professionalism, that ultimately have led to a safe, sustainable, high quality, successful construction projects.
The Glass House - Best Residential Extension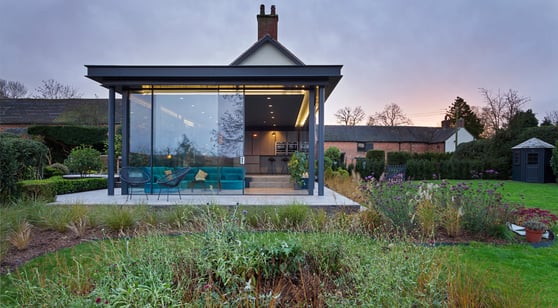 The property is a typical modest early 19th century Grade II listed farmhouse set within a conservation area and close to the greenbelt. Our team worked closely with our client, the conservation officer, the planners, and Building Control team to deliver a design solution that seamlessly flows from the old to new. Its simple appearance is distinctly contemporary which clearly contrasts against the historic form of the existing Grade II listed house, enhancing the whole.
The design has created a high-quality extension to the property that is sleek, spacious, flexible, and light. The clean lines of the extension respect the existing house and it sits comfortably within its surroundings. Our clients now have an open plan space that unites their friends and family, whilst seamlessly connecting their home with the garden. They couldn't be happier.
"We are so pleased with our new kitchen and living space. The old outbuildings have been replaced with a contemporary lightweight glazed addition that provides us with a real connection to the garden both day and night. It is better than we imagined."
Let's Talk
Our team are here to help. If you have any questions about your own project, feel free to send them to us anytime. Take a look at our website for the latest news, completed projects, design inspiration and client reviews.
If you can't find answers to your questions, just ask, we're always here to help you in any way we can.
In the meantime, if you need anything further, please do not hesitate to contact us on 01785 248542 or drop us an email.
MORE NEWS


Extension to Victorian Property Featured In Real Homes Magazine
READ MORE