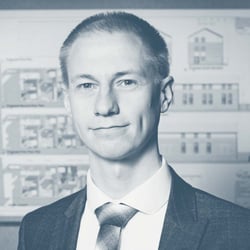 MANAGING DIRECTOR

BA (HONS), DIP. ARCH, RIBA
My favourite thing, that's a tricky one as I could name so many, but I do like to get out for a cycle on my road bike. You see so much more wildlife when you're silently coasting along, it's great!
One day, it would be great to travel around the world and maybe even cycle it!
Carl Croft is the founder and managing director of Croft Architecture and has a wide range of experience across many sectors. He previously worked for two well established Architectural practices in North Staffordshire before establishing Croft Architecture in January 2009.
Carl has had a passion for architecture from a very young age and it was sole ambition from his school days. His creativity and drive, along with a desire for continuous learning and self-improvement (not to mention a little hard work here and there!) has delivered the results.
He has nurtured and conscientiously grown the practice over the years, winning a commendation for Professional Services in the Staffordshire Chambers of Commerce Business Awards. Also for the Best Partnership Project, Best Education Building and Best Individual New Home 2020 in the LABC Awards (Local Authority Building Control) and individually, Carl was runner up in The Sentinel Young Business Person of the Year Award.
To ensure consistent performance, service and safety, he has implemented quality systems and procedures throughout the business and successfully achieved independent accreditation across four ISO Quality Standards.
Carl is committed to implementing continual best business practice for Croft Architecture. To drive forward his ambition he is a member of the Vistage business group, who regularly connect to provide valuable collaborative business support, strategy and coaching.
Carl has the honour of holding significant roles within the local business community. He has been re-elected as the President of the Stafford Chamber of Commerce for a second time and is also a board member at Staffordshire Chambers of Commerce.
Since the practice was founded Carl has developed the business, growing it from strength to strength. He's assembled a strong team of talented, positive and pro-active, like-minded people and the practice continues to flourish.