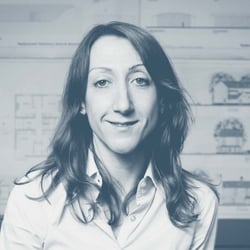 MARKETING DIRECTOR

I have so many favourite things but here are a few, exercising on the bike, walking the dogs or at home HIIT or weights, travel, cooking and eating and spending time with the important people in our lives.
One day I would love for Carl to design a sustainable home for us (with a little input from me, of course), with views, land and maybe some goats. 😊
One day hope to have design my own eco home and perhaps painting professionally rather than just for my own pleasure. It would be great to share my artwork on a wider scale.
Sarah joined the Croft Architecture in June 2014 with an experienced sales and marketing background.
Studying Tourism Management at Staffordshire University, Sarah developed a strong interest in marketing and directed her studies to strengthen her knowledge and experience in this area. She has valuable experience as Marketing Assistant at a local Architects practice, as a Marketing Copywriter for an I.T sales and marketing company and thereafter, working for the The Co-operative Travel.
Sarah has a grown up with a passion and a strong interest in architecture from her father, who has since retired as an architect and she now shares her interest whilst working with her husband, Carl Croft, Managing Director of Croft Architecture.
Sarah is excited to join Croft Architecture and expand her marketing skills within the digital environment, building Croft Architecture's brand awareness and extending its digital reach.